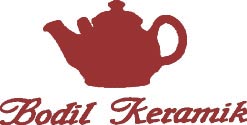 Bodil Keramik · Sømarkevej 2 · Magleby · 4791 Borre · Telf. 55 81 20 61 · e-mail:
bodil@bodilkeramik.dk

Åbent alle dage kl. 10-17 · Værkstedet er åbent for grupper efter aftale



I 1964 begyndte jeg min uddannelse som pottemager, og i 1969 startede jeg som selvstændig.
Jeg arbejder udelukkende med brugsting i lertøj og stentøj efter gamle pottemager traditioner. Alle tingene bliver hånddrejet på sparkeskive, hankene bliver håndtrukne, tudene til tekanderne drejet og modeleret på. Alt er håndarbejde.
I forbindelse med værkstedet findes en salgsudstilling, hvorfra hele produktionen sælges. Tekander, krus, kopper, skåle, fade, vaser etc.

Im Jahre 1964 begann ich eine Ausbildung als Töpfer und machte 1969 mich selbständig.
Ich produziere ausschliesslich Gebrauchsgenstände aus Lehm und Steingut nach alten Töpfertraditionen. Alles wird auf der Drehscheibe handgedreht. Henkel werden handgezogen. Die Teekannetüllen werden gedreht und montiert. Alles Handarbeit.
Neben der werkstatt haben wir den Laden mit Ausstellung und Verkauf von allen Waren. Einige Beispiele: Teekannen, Teetöpfe, Tassen, Schüsseln, Schalen, Vassen u.s.w.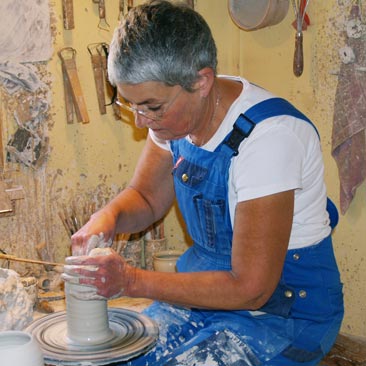 I recieved my first training as a potter in 1964 and in 1969 I started my own production.
I only work with articles for everyday use, made of earthenware and stoneware, using old pottery traditions. Each article is handtrown on a kick wheel, the handles are hand made, the spouts for the teapots are thrown and modelled on. Everything is done by hand.
All the articles produced are on sale at the sales exhibition ajoining the workshop - teapots, mugs, cups, bowls, dishes, vases etc.